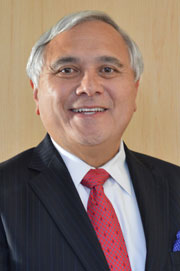 George Kolber is the managing member of GVK Limited Partners, which strategically provides Venture Capital and financing. He also heads Kolber Properties which owns and manages resort residential and other commercial properties, is the founder and CEO of Kopa Group LLC, which is engaged in design, sales and installation of commercial and industrial low-energy lighting.
His previous experience include of CEO and Vice Chairman of the $2 Billion Retail Ventures Inc. (NYSE:RVI), which operated Value City Department Stores, Filene's Basement and DSW Shoe Warehouse. He served as the Vice Chairman and Chief Operating Officer of American Eagle Outfitters, Inc (NYSE:AE) where the company grew from a market capitalization of $225 million to over $2.25 billion. Mr. Kolber was recently the Chairman and CEO of Body Shop of America (NYSE:BODY), a national retail chain with a catalog and e-commerce operation. In the past Kolber has enjoyed a great deal of success in turning around troubled companies.
Kolber, who is currently a Commissioner of the New Jersey Sports and Exposition Authority, previously served on the Boards of Wieboldts' Department Stores, Penn Jersey Automotive (Chairman), Strauss Stores Corporation and other retailing and consumer product companies.
Mr. Kolber previously served on the Board of Trustees for Jumpstart, a highly recognized nonprofit organization, whose focus is to help promote early literacy for economically underprivileged children. He is the Chairman of the Kolber Family Foundation; served on the Board of the University of the District of Columbia's School of Business; is a past Chairman of Riverview Medical Center Foundation, Red Bank, NJ and trustee of Oak Hill Academy, Lincroft, NJ.
Mr. Kolber served in the US Army Reserves from 1969 until 1975. He lives in Middletown, NJ with his wife Vita. Also living nearby are his two children Lisa and Richard and his granddaughter Sloane.