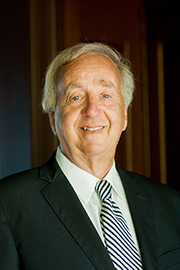 Woody Knopf, former Chairman of Knopf Automotive Parts, was born in Brooklyn, New York in 1948. He attended Thomas Jefferson High School and graduated with the prestigious George C. Wingate Scholar Athlete Award. Knopf attended Brooklyn College, where he was a member of the Pierce Power House Plan and participated in intramural sports on all-college championship teams for swimming, football, and track and field. After graduating with a bachelor's degree in economics, he joined the United States Army Reserve. Knopf completed his advanced infantry training at Fort Bragg, North Carolina and attended Quartermaster School at Fort Lee, Virginia, where he achieved distinguished graduate status. Knopf proudly served in the Army Reserve for six years and attained the rank of staff sergeant.
From 1971 to 1973, Knopf worked at AT&T in New York City as a communications consultant. He attended Fordham University at Lincoln Center at night, where he earned an MBA in finance. Upon graduation, he joined M&M Knopf Automotive Parts, his family's business in Brooklyn, New York. With his father Max and brothers, Michael and Marshall, he helped grow the business to be the largest core supplier in the world. In 1996, the Knopfs partnered with Delco Remy and grew the business to include new parts distribution. Two years later, they added Delphi Saginaw as an original equipment distribution partner. Through several changes of ownership over the past twenty years, M&M Knopf has grown to be a well-respected, integrated distributor of new parts and cores globally.
From 2012 to 2017, Knopf served on the board of directors of MERA – The Association for Sustainable Manufacturing. In April 2018, he received the prestigious Michael Cardone Leadership Award, recognizing him for his vision, passion, innovation, and excellence in the automotive aftermarket.
Knopf is a past trustee of The Rumson Country Day School, Rumson, New Jersey, having served as development chair and vice president of the board. He served on Georgetown University's McDonough School of Business Parent Council, as well as Georgetown College's Parent Council. He also started and chaired the Parents Leadership Council at Fairfield University.
Since 2015, Knopf has been a member of the Monmouth Medical Center Board of Trustees, where he actively serves on the nominating and development committees. He served as a member of New Jersey Governor Philip Murphy's transition team for transportation and mobility issues. In April 2018, he was nominated as commissioner of the New Jersey Sports and Exposition Authority. On May 30, 2019, he received unanimous confirmation by the New Jersey State Senate.
Knopf has been married to his wife Claire for 34 years, and they have lived in Rumson, New Jersey for the past 26 years. Their three grown children, Catherine, James, and Elizabeth ─ recently married to Michael Romano ─ all live and work in Manhattan.