The MEC offers innovative, hands-on, environmental science programs for Grades K-12 at the NJSEA's Center for Environmental and Scientific Education (Science Center), an NJMC facility run by Ramapo College of New Jersey. Approximately 15,000 students particpate in MEC education programs each year. Classes cover a wide array of scientific disciplines including ecology, chemistry, biology, physics, natural history and astronomy. All programs comply with New Jersey Core Curriculum Content Standards.
For more information about our school programs or to register, click here or call 201.460.8300.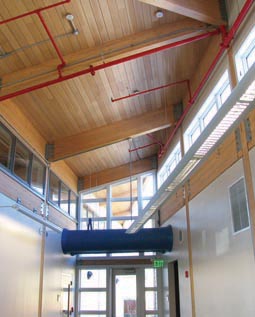 The Science Center was the first public building in New Jersey to be awarded LEED (Leadership in Energy and Environmental Design) Platinum Certification – the highest rating from the U.S. Green Building Council. The Science Center itself is used as a teaching tool: educators explain to students how its rooftop solar panels, recycled building materials and other aspects of sustainable building benefit the environment.