Real-Time Monitoring Reports Available – click here
Archived Data Available here
Statement
The link above provides the public with access to real-time hydrogen sulfide monitoring data from the Keegan Landfill's eight ambient air monitoring stations. Clicking on the link brings visitors to a page maintained by the NJSEA's environmental consultant.
Since March 2020, the NJSEA has been receiving an average of 20,000 cubic yards per month of soil for grading and contouring the landfill in preparation for final capping. This soil is currently being placed on the western portion of the landfill (closest to Schuyler Avenue). This process is being monitored by consultants for the Town of Kearny who make regular visits to the site. Placement of soil on the eastern portion of the landfill will commence in late September. The Town of Kearny is copied on all NJSEA submissions to the NJDEP including, but not limited to, daily hydrogen sulfide monitoring data and permit applications.
The first phase of the gas control and collection system began operating in September 2019 and immediately resulted in significant reductions in hydrogen sulfide gas emissions. Since then, the NJSEA has been continuously expanding and improving the system. An application for the final phase of the landfill gas collection system, which includes an enclosed flare and sulfur treatment system was submitted to the NJDEP in December 2019. The system was delivered, installed and was operationally ready by March 2020, with startup on hold pending NJDEP approval of the application. As part of its aggressive pursuit of regulatory approval, the NJSEA submitted timely responses in February 2020 and May 2020 to comments received from the NJDEP. On September 4, 2020, the NJSEA received temporary approval from the NJDEP (in advance of permit issuance) for operation of the enclosed flare to better protect wildlife from the exposed flame of the open flares. The enclosed flare began operation on Sept. 21, 2020
In accordance with the ACO, there has been continuous operation (24 hours/day, 7 days/week) of the gas collection and control system, including the sulfur treatment system, since March 2020. The system applies a vacuum to the landfill, which has resulted in the collection and control of approximately 396 million standard cubic feet of landfill gas between the months of January and August 2020. Monitoring and adjustment of the gas collection system occurs weekly. On July 7, 2020, the NJSEA submitted a closure and post closure plan to the NJDEP, which includes the engineering design of the final cover system in accordance with NJDEP regulations and approvals.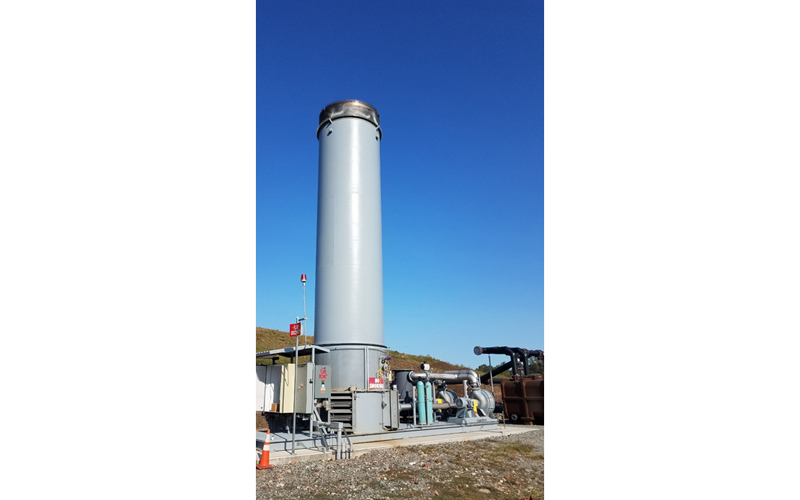 – September 22, 2020
---
---