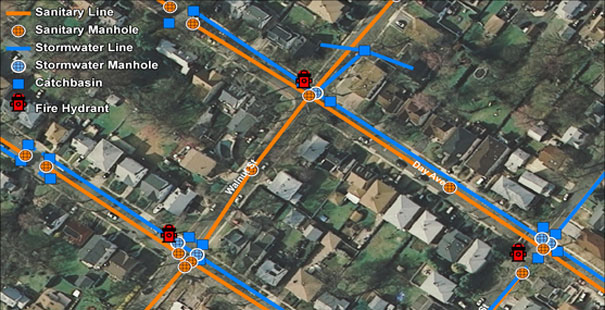 The Geographic Information Systems (GIS) group uses state-of-the-art technology to create, maintain and update comprehensive, web-based digital maps and mapping tools for every property in each Meadowlands District municipality.
The maps provide emergency officials within District municipalities instant access to critical information, including data on hazardous materials stored in warehouse facilities, fire hydrant locations, incident reports, floor plans, turn-around space for heavy firefighting equipment, and current and historical aerial imagery. This potentially life-saving information can easily be accessed from field computers, tablets and smart phones. The maps are made available to first responders through the Emergency Response Information System (ERIS).
Emergency responders and municipal officials are kept informed of new capabilities and upgrades to the program through GIS' comprehensive training programs, technical support and refresher seminars. In 2013, the GIS group held six hours of training sessions attended by 30 local officials and first responders. If you are interested in learning more about this program please contact the GIS Department.