The NJSEA maintains several vehicles to help District Municipalities address flooding and sewer-line issues, among other concerns. Vehicles include a vac-truck, root cutter, two portable automatic self-priming pump systems and a trailer-mounted light tower. They are staffed by the NJSEA and are available to towns free of charge. The schedule for the program services is 7 a.m. to 3 p.m., Monday through Friday. Reservations for this equipment are required.
If you have any questions please contact Paula Speers at 201.460.4537.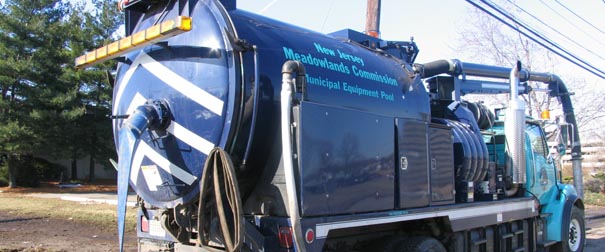 Vac Truck Specs
The jet-vac truck is capable of removing debris that may be clogging sewer lines or storm drains. It is required that representatives from the hosting municipality be present during this work. The Vac Truck has a tank capacity of 2,250 gallons with a pipe capacity of 2 inches to maximum size. The jet line depth is 500 feet with a vacuum depth of 30 feet. The jetting pressure can go to 2100 psi.
This truck can be utilized for work in each of the Districts municipality. The entire municipality is eligible regardless of the District Boundary.