The Meadowlands District is home to 21 parks, including eight miles of walking trails and 3,400 acres of preserved wetlands. The region is also a birding hotspot: more than 285 species have been seen, including nearly three dozen on the State Endangered, Threatened and Species of Special Concern lists. The agency's guided nature walks in partnership with the Bergen County Audubon society, pontoon boat rides, and canoe trips offer great opportunities to experience the amazing natural beauty and wildlife found throughout the District from a unique vantage point. The NJSEA Website's Events section and the Meadowlands Nature Blog include schedules and reminders of upcoming events.
PONTOON BOAT TOURS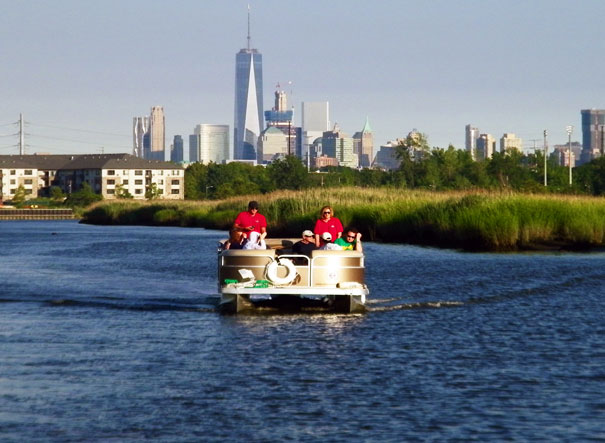 Our pontoon boat tours run from June through September and offer an up-close experience of the Hackensack River and its marshes. For those who have glimpsed the Meadowlands only from the surrounding highways or the window of a commuter train, the free leisurely, two-hour boat tours reveal a whole new environment including acres of preserved wetlands and a thriving ecosystem, all framed by a spectacular view of the Manhattan skyline.
Expert guides discuss the Hackensack River estuary's storied history and point out wildlife along the way. The tours launch from River Barge Park in Carlstadt. Pre-registration is required. The pontoon boats feature comfortable seating for 12. Trips are for ages 10 and up. Group tours are available upon request.
DIRECTIONS:
Directions to River Barge Park
NATURE WALKS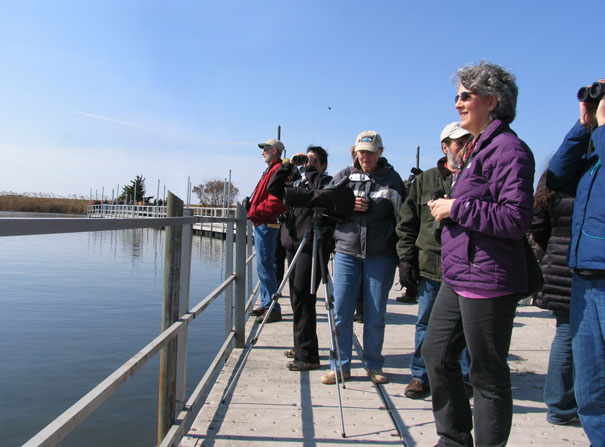 The Bergen County Audubon Society leads year-round, free, guided nature walks on the first Sunday and third Tuesday of each month. The family-friendly walks take place from 10 am to noon in parks and natural areas throughout the Meadowlands District. Guides bring spotting scopes so that participants can see wildlife up-close, including some of the 285 bird species that have been scene in the District, including 34 on the State Threatened, Endangered, and Species of Special Concern lists. Participants are encouraged to bring binoculars and cameras.

For information on upcoming nature walks visit our events page. To view photos and lists of species spotted on the walks visit our nature blog.
You can also download our helpful guides below.