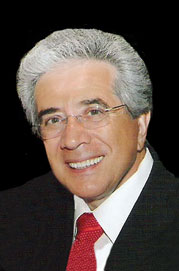 Anthony Scardino Jr. is a former State Senator and the former Mayor of Lyndhurst NJ. He served for 18 years as the Executive Director of the New Jersey Meadowlands Commission.
He entered a life of public service after he completed four years in the United States Air Force. He served as Mayor of the Township of Lyndhurst N.J., the Township's Board of Education, and a New Jersey State Senator for seven years before assuming the position at the New Jersey Meadowlands Commission.
Currently Senator Scardino serves as a member of the Board of Trustees of Hackensack Meridian Health Hospitals Corporation (HMH); HMH Finance Committee and HMH Academic Affairs Committee; President Emeritus of the 200 Club of Bergen County; Commissioner of the New Jersey Sports and Exposition Authority; Chairman Emeritus and member of the Board with the Meadowlands Chamber of Commerce and Meadowlink Board.
Past service includes Chairman of the Board of Hackensack University Medical Center; Felician College Board of Trustees; Trustee Bergen County Law & Public Safety Institute; New Jersey Supreme Court Appointment District IIB Fee Arbitration; President Emeritus 200 Club of Bergen County.
In 2000, he was awarded an Honorary Doctor of Humane Letters from Felician College; Senator Scardino and his wife, Madelyn, have 5 children, 12 grandchildren and 1 great granddaughter.