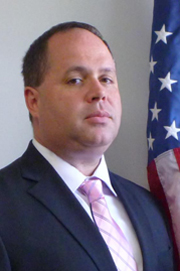 Commissioner Robert J. Dowd is the Chief of Police of the Township of North Bergen, overseeing all aspects and day-to-day operations of a 135-person department serving a township of more than 60,000 people. He has served as a North Bergen Police Officer since 1994 and is certified by the New Jersey Police Training Commission as a police academy instructor. He is also a Certified Public Manager (CPM) earning his CPM designation from Rutgers University. He graduated from the FBI's Law Enforcement Executive Development Seminar (FBI-LEEDS) and is designated as an Advanced Level Accredited Chief Executive by the New Jersey State Association of Chiefs of Police.
Commissioner Dowd holds a Master of Science degree in Criminal Justice from New Jersey City University (NJCU) where he graduated with a 4.0 grade point average. He also earned a Bachelor of Science in Criminal Justice from NJCU where he graduated Summa Cum Laude.
During the course of his career, Commissioner Dowd has received commendations for bravery and valor from the Director of the Federal Bureau of Investigation, the Knights of Columbus, and the Veterans of Foreign Wars, as well as numerous citations from the Policeman's Benevolent Association. In July of 2016, Commissioner Dowd was invited to the White House by President Obama to participate in a briefing on the President's 21st Century Taskforce on Policing. In July of 2017, he traveled with 25 other police leaders from New Jersey to study at the College of Policing in Manchester, England, and stayed at the Sedgely Park Training Center, the police academy for the Greater Manchester Police.
Commissioner Dowd is also employed as an Adjunct Professor of Criminal Justice at New Jersey City University where he teaches various courses on Criminal Justice. In addition, he works for Bernstein and Associates, Inc., which is regarded by many in the law enforcement field to be the nation's leader in public safety exam preparation. As an instructor for Bernstein and Associates, Commissioner Dowd provides instruction to police officers and sheriff's officers who are preparing for promotional exams in the New Jersey Civil Service System, as well as the City of Chicago Police Department.
Commissioner Dowd is a proud member of the International Association of Chiefs of Police, the New Jersey State Association of Chiefs of Police, the Hudson County Chiefs of Police Association (where he previously served as a president), FBI-LEEDA, the New Jersey State PBA, the Fraternal Order of Police, the Italian American Police Society of New Jersey, and the Jersey City Police Emerald Society.
Commissioner Dowd resides in North Bergen with his wife, Grace. He has one adult daughter, Ashley Teagan, who is a nationally certified school psychologist employed by the North Bergen school district.