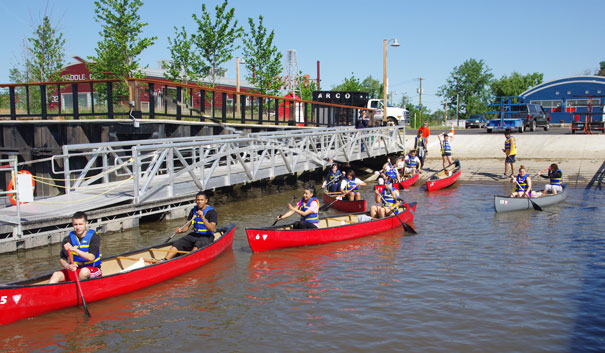 For a more adventurous and upclose look into the tidal creeks and marshes, join us for a canoe excursion. Experience our unique ecosystem from the vantage point of the open water.
The tours launch from the Mill Creek Point Park in Secaucus and Hudson County Park at Laurel Hill in Secaucus. They explore Mill Creek Marsh, the Sawmill Creek Wildlife Management Area, and more. Canoeing can be enjoyed by people of all ages. We supply all equipment and give you helpful tips before setting out on the water.
The cost is $15 per person. Pre-registration is required. Groups are welcome.
Click on the link below to view scheduled dates and to download the register form for a tour. Or, for more information call (201) 460-4677.
Canoe Tour Schedule and Registration Form
Directions to Mill Creek Point Park(Mill Creek Tours)
Directions to Laurel Hill (Saw Mill Creek Tours)
Directions to River Barge Park
Hackensack River Boating and Paddle Guide
River Barge Park Brochure